Saxon Grange, Shaftesbury
New Homes in Shaftesbury (Saxon Grange, Shaftesbury)
One of the oldest and highest towns in the UK, Shaftesbury makes an idyllic setting for a new home. Persimmon's Saxon Grange development is less than a mile outside the historic centre, and close to Salisbury.
Filled with beautiful old stone buildings and independent businesses, Shaftesbury sits on the edge of the Chase Cranbourne AONB. It's home to Gold Hill, the picturesque cobbled street with far-reaching views which was made famous by Ridley Scott's 1973 advert for Hovis bread. It's these chocolate-box scenes and idyllic way of life that draw not only tourists, but also
homebuyers, to Shaftesbury each year.
Additional provisions are being made by Persimmon to enhance the area further, including an outdoor recreational space and contributions to local schools, transport and primary care services.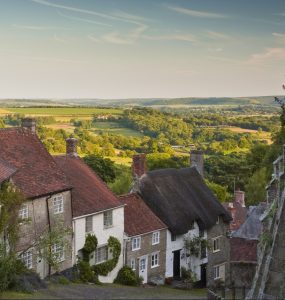 Range of Local Amenities
Shaftesbury provides everything you need for day-to-day life and more. There's a range of high street brands and banks, plus a Tesco superstore to cater for all your essentials. The town is also awash with independent stores, from gift shops and greengrocers, to florists and fashion boutiques, along with a range of tempting eateries, plus the excellent deli. The weekly market is full of edible delights, and the local medical centre and hospital are a reassuring presence.
Great transport links
The town benefits from good road links – set between Yeovil and Salisbury, both large towns are around a 45-minute drive away. There's also a good bus network, which includes routes to the train station 4 miles away in Gillingham. From there you can catch direct trains to Yeovil, Salisbury, Exeter and even London Waterloo (2 hours).